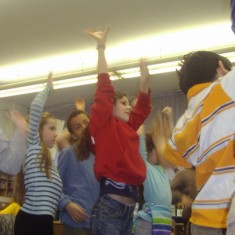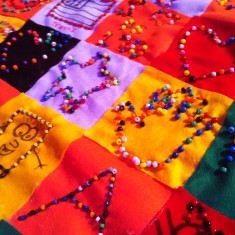 In-School Programs
As Wingspan Arts strives to fulfill the mission of connecting students to the arts and the arts to life, we are able to provide custom designed programming to every school or organization we work with.
For that reason, very few In-School arts education programs look alike.
Wingspan's current in-school programs range from elective arts classes to integrated arts programming that work closely with collaborating classroom teachers. Wingspan Teaching Artists work with students in Kindergarten through 12th Grade, in a variety of genres, during the academic day. Our arts education programming is thoughtfully designed for grade level and prior knowledge in order to be successful.
When planning a program, we consider national and state standards, in addition to specific arts standards such as those outlined in The New York City Blueprint for the Arts. The same collaborative spirit continues when Wingspan Teaching Artists go into the school to work with staff and students. Our hope is that we collaborate with a school, we become a true arts partner and a lasting member of that school's community.
All residencies are different. Each residency grows from a creative, collaborative process between Wingspan Arts and the School Partner, based on the disciplines below.
Music
Musicians will explore the basic elements of music. They will learn the fundamentals of dynamics, tempo, pitch, melody, harmony, beat and rhythm. Students engage with music through songs, games, exercises and by listening, and walk away with understanding and vocabulary of music. Teaching artists will work with students as they sing in a choral group, or individually, paying attention to pitch, vocal technique and diction.
Theatre
Actors will listen to classic and contemporary children's stories, and get a chance to create their own characters and perform for their peers. This class combines storytelling and imagination to create a deeper understanding of drama and performance. Students can engage in basics of acting, scene study, character creation, playwriting and performance.
Dance
Through a series of games and movement exercises, dancers will learn such styles as ballroom, African, Jazz, Salsa, Afro-Caribbean, Hip Hop Step and Swing. Our dance program will introduce the ideas of rhythm, beat and telling a story with your body. There is an opportunity for students to experience both Teacher Technique and Student Created choreography.
Visual Arts
The visual arts program gives students the opportunity to work with high quality materials in a highly creative and interactive environment. Residencies include drawing, painting, sculpture, recycled arts and beyond. Professional artist educators teach the context of a particular era, then guide students in their own independent works.
Image
This program allows students to tell a story through photography, filmmaking or animation. Students tell stories, develop characters, storyboard and direct individual or group pieces.
Contact: Education Department, education@wingspanarts.org