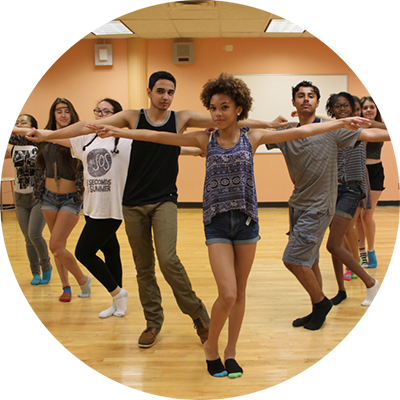 The one thing that impressed me most about Wingspan Arts is that in a short amount of time, they have a great impact on children. For me, working with Wingspan has been a great experience; I feel I am actually accomplishing something.
Lynn Marlowe
Description
Wingspan Arts Conservatory offers a true conservatory experience for every theatre student. Through a variety of activities as well as classes taught by industry professionals, students learn the skills required to become accomplished actors, vocalists and theatre artists. Designed for students with a genuine desire to develop their theatre performance skills, we offer pre-professional training for teens, and creative theatre classes for younger students. Whether they're beginners or experienced professionals, our students receive instruction that combines fun and creativity with learning, and keeps them coming back year after year.
Summer
The Wingspan Arts Summer Conservatory is a free-tuition conservatory that consists of two unique divisions, one for middle school and another for high school students.
The Wingspan Players is a musical theatre program that gives 6th-8th graders the opportunity to perform skills building, ensemble-based musicals. In past years, the Players have performed Shrek, The Wiz and Once on This Island, among other beloved musicals.
Designed for 9th-12th graders, our more advanced Wingspan Ensemble encourages students to dive into more challenging work, taking creative risks and making exciting choices. Each student takes on a larger role and explores a more advanced skillset. A sample of shows the Ensemble has produced include Merrily We Roll Along, Ragtime, Twelfth Night, The Heidi Chronicles and The Laramie Project.
Students in each program take classes in various theatre disciplines during the first half of their day, and rehearse with their show ensemble for the second half. See below for more information on this summer's program.
Fall / Spring
Masterclasses
Training Classes
Audition Coaching / Classes
Winter
Cabaret Troupe
Students in grades 8-12 explore new and classic Musical Theatre songs not only as singers, but actors as well, as they learn how to connect to, interpret and "sell" a song. Working with a musical director, director and choreographer, students develop and rehearse a musical theatre revue. Culminating in a performance at an Off-Broadway theatre, the class gives students the experience of putting on a professional-level performance. Often, students are selected to perform at Wingspan events throughout the year to showcase their work. The Troupe is a great opportunity for summer conservatory students to continue honing their craft into the winter.
Wingspan Arts Summer Conservatory — 2018
THE DEADLINE TO APPLY FOR SUMMER CONSERVATORY 2018 HAS PASSED.
Please check back in the fall for information on Summer Conservatory 2019.
Middle School Conservatory
Incoming 6th – 8th graders
THE WINGSPAN PLAYERS: Musical Theatre
July 2 – August 4 (5 weeks) (no programming on July 4)
Mon-Thu 9am – 4pm / Fri 9am – 1pm
We believe the best way for young artists to become well-rounded performers is by setting class work alongside production experience. For our students to receive the most comprehensive and engaging training, morning rehearsals are followed by afternoon classes in acting, voice, dance and other performing arts.
In production: Students will rehearse and perform a full-length, classic musical theatre production.
Performances: August 3 – 4, 2018
High School Conservatory
Incoming 9th – 12th graders
THE WINGSPAN ENSEMBLE: Theatre and Musical Theatre
July 2 – August 12 (6 weeks) (no programming on July 4)
Mon-Thu 10am – 5pm / Fri 10am – 1pm
The Wingspan Ensemble is a select group of high school students who love theatre and look forward to exploring more challenging work. Ensemble classes are more specialized and demanding than those offered to the Wingspan Players. The goal of the Ensemble is to enable our students to expand their range and find new depth in their work.
In production: Ensemble students focus on less frequently produced plays and musicals. The Director casts students in either the selected play or musical during their first week in the program.
Performances: August 9 – 12, 2018
It is imperative for all students to be in attendance for the ENTIRE program, please do not apply if you have a vacation planned for any of the program dates.
Application Requirements
Application (completed)
Personal statement
Teacher recommendation
Application Deadline:
Thursday, February 1, 2018 at 5pm
There will be no exceptions for anyone who does not have all materials sent by the deadline.

Auditions:
March 4, 2018 (by appointment only)
Auditions are by appointment only and only for students who submitted completed applications on time.
All students will need to prepare 16 bars of a musical theatre song and a one-minute monologue for the auditions. More information is available about audition materials on our FAQs page.
For a description of these programs, visit the Summer Conservatory link above.
Upcoming Performances
JAMES AND THE GIANT PEACH, JR.
Starring The Wingspan Players
August 3, 7pm
August 4, 2pm & 7pm
THE DROWSY CHAPERONE
Starring members of The Wingspan Ensemble
August 9, 7pm
August 11, 7pm
August 12, 2pm
AS YOU LIKE IT
Starring members of The Wingspan Ensemble
August 10, 7pm
August 11, 2pm
August 12, 7pm
Student & Alumni Spotlights
We are so proud of our student and alumni accomplishments!
Check out their awards and accolades below: