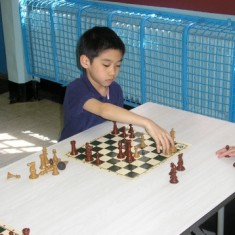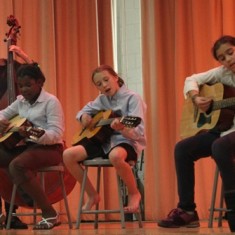 Afterschool Programs
The Club Wingspan afterschool model has been developed and refined over the years, and although programs may look similar on the outside, they are tailored specifically to each school community. This model owes its success to our Site Directors and assistants who facilitate daily program management, and our roster of talented teaching artists, who are able to focus on the arts instruction that they do best. Club Wingspan allows all students a chance to broaden their arts learning, and with classes like Rock Band, Karate, Mini Musical and Pop Art, you never know what to expect with each new semester of afterschool.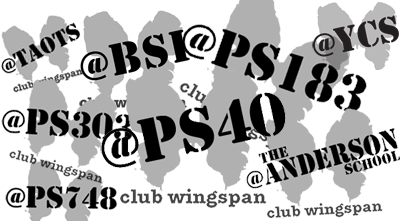 Unique and popular classes developed by teaching artists include:
Musical Mania!
'5, 6, 7, 8!' Musical Mania is a song and dance experience like you have never had before. This class explores musical theatre dance and music, and gives kids the chance to do it themselves! They work on your turns and time-steps, as well as working on creating original songs!
Flicker Filmmaking
For aspiring actors, designers, directors, and cinematographers, this class gives kids the chance to take part in film production at every stage. They even learn how to use a state-of-the art digital video camera! Kids watch and discuss commercials, documentaries, and other short films by kids, and they also take part in improv acting exercises, creating characters for their screenplay. The class edits the film together on Mac's i-Movie and holds a public screening. At the end of the semester, each child gets a DVD copy of the movie!
Art Attack
This is a visual arts class with an emphasis on creativity, invention and fun! Kids learn to recycle paper to make collage greeting cards, create bead jewelry of their own unique design, and decorate and re-use old things to make candle holders, mirrors, secret boxes and more. Students cut, paint, draw, stitch, glue and sculpt — and turn trash into treasures!
Dance Around the World
In this class the dancers learn styles such as African, Jazz, Ballet, Salsa, Afro-Caribbean, Indian, Hip Hop, Funk and Swing. They will dance to music from all over the world and play games that help them listen to the sounds that make each style and culture unique. This class helps open young children to the awareness of other countries' historical dance styles and find a common colorful thread that runs through ALL movement.
And many, many more! Check out class descriptions for individual schools in the download list on the right hand side of this page.