Description
Our Afterschool Program aims to connect the arts to life by offering high-quality, arts-based teaching and learning opportunities to its students within the structure of a safe, fun, and enriching afterschool environment. Tailored specifically to each school community, Club Wingspan and is open daily from the end of the school day until 6pm. With each new semester, students have an opportunity broaden their learning beyond the classroom curriculum, with afterschool art classes across the artistic spectrum, including music, dance, drama, and visual arts. Club Wingspan also occasionally runs supplement classes in sports, culinary arts, and hands-on science. Each 90-minute class includes a variety of activities to keep students engaged, entertained and educated. In addition to ensuring students engage in creative self-expression through an integrated arts curriculum, we offer them time to work on their homework, play games, enjoy snacks and socialize with their peers.
Currently, Club Wingspan serves over 1,400 students at 15 schools. Whether students are producing a Mini Musical or rehearsing with their Rock Band, each Wingspan arts class provides them with unmatched leadership from an expert Teaching Artist who is a working professional. All our programs have Site Assistants and Assistant Teaching Artists who help supervise the structured activities. A Site Director is also onsite daily to liaise school administrators and keep parents informed.
In the spirit of creative expression, each Wingspan Arts class works toward a final presentation, performance or exhibition that represents the skills students acquire and master throughout the semester. At the end of each school year, Wingspan hosts a culminating community event to showcase every student's talent, creativity and hard work.
To learn more about having Club Wingspan at your school contact us. Please note: Wingspan Arts is not pursuing new afterschool partnerships during the 2018-2019 school year.
Program Descriptions, Schedules, & Forms by School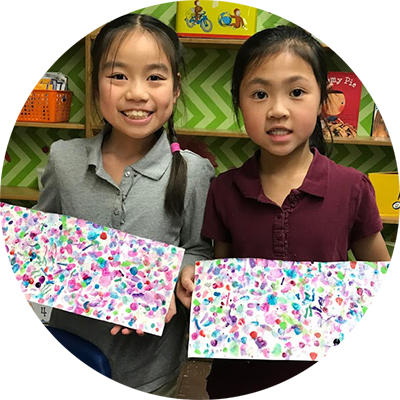 The talented and dedicated Wingspan staff has provided [our child] with a warm, creative nurturing environment. Your teachers are outstanding! My son really looks forward to the days when he has "afterschool".
P.M.